Mailbox
March 15, 2011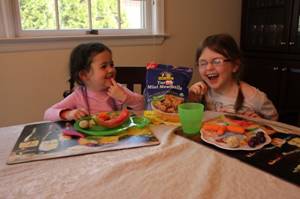 Hi,
I just wanted to say THANK YOU for your turkey mini meatballs! We buy them at Mrs. Greens and my daughters absolutely love them. It's wonderful to have an organic protein for them that's so quick and easy. Here's a picture of my girls enjoying Tre Bella meatballs.
Stephanie
Larchmont, NY
Feburary 22, 2011
Hi Gail,
Thanks so much for your e-mail. I do have two Kings near me and will be Delighted to go there to get the turkey meatballs. Having celiac, it's such a treat to find a great tasting product like yours.
Thanks again. I very much appreciate your responding.
Sincerely,
Maxine
NJ
January 6, 2011
My 2yr. old granddaughter and her 2 yr. old best friend love your meatballs. Keep up the good work.
Thanks
E. Johnson